Regular price
$134.89 USD
Regular price
Sale price
$134.89 USD
Unit price
per
Sale
Sold out
The Tri-Band mobile is here! Suitable in vehicles or as a standalone base unit, these kick out 25w on max power. Its compact size lends itself well to a minimal footprint in most vehicles while still packing a a big punch.
UV-25X4 (Second Generation) 25W Mobile Two Way Radio
Second Generation
The UV-25X4 is very much the same radio, our users have come to enjoy, with several new functionality improvements. The UV-25X4 has seen several performance improvements and tweaks in its second generation release.
RJ45 Audio Input & Output
The UV-25X4 has new menus and operations that allow audio I/O from its RJ45 microphone port. This allows the UV-25X4 to be installed for custom applications, where users want more control on where the speaker and mic audio is routed to.
VOX Handsfree Support
The UV-25X4 (Second Generation) includes VOX support. VOX allows for handsfree use with your favorite audio accessories or the included handheld microphone.
Enhanced Audio I/O Support: The UV-25X4 features upgraded audio input/output capabilities through its RJ45 microphone port and includes a K1 audio adapter. The widely compatible K1 accessory jack allows access to a vast range of aftermarket audio accessories, tailoring your radio experience to your preferences.

Effortless Installation and Adaptable Use: The UV-25X4 comes with all necessary mounting hardware for smooth integration into any vehicle. Easily convert it into a home or office base station with the optional RPS-30M power supply (sold separately).

Suggested Accessories for Peak Performance: Optimize your UV-25X4 experience with the Nagoya TB-320A Tri-Band Antenna for easy installation and the PC04 FTDI Cable for seamless computer programming.

Triple-Band Functionality: Operate the UV-25X4 as multiple radios in one, using 144 MHz, 220 MHz, or 430 MHz as the primary TX/RX band, while simultaneously monitoring up to 3 other frequencies or channels. Configure your device for VHF-VHF, VHF-UHF, or UHF-UHF operation according to your needs.

All-Inclusive Kit: Your purchase includes the BTECH UV-25X4, RJ45 to K1 Audio Adapter, Speaker Mic, DC Cable, Radio & Mic Brackets, Mounting Hardware, and a User Guide to help you get started with your advanced radio experience.

Dual Watch monitoring VHF/UHF and 220Mhz: The 220 MHz band antenna lowpass filter is switched with a relay and the 2 meter lowpass filter and 70 cm highpass filters are switched with PIN diodes – resulting in a audible relay switch noise when monitoring 220MHz with VHF/UHF simultaneously. A relay that completely isolated the 220 MHz RF filter won't impact the RF performance of the 2 meter/70 cm bands. If monitoring multiple 220MHz or VHF/UHF simultaneously the relay is not heard or used.
Share
View full details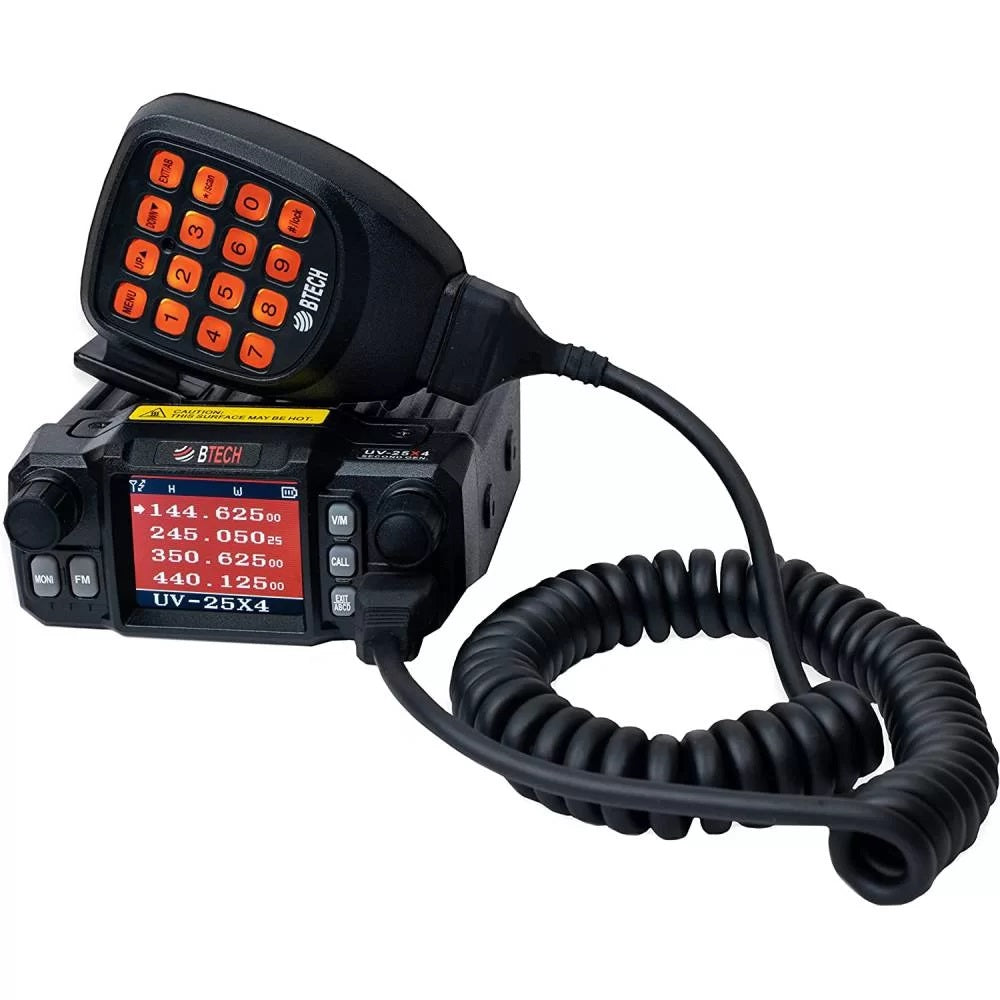 Great radio fast shipping.