Regular price
Sale price
$7.99 USD
Unit price
per
Sale
Sold out
Made in collaboration with Black Hills Designs and myself, I'm proud to offer one of the coolest products for the Guerrilla Rifleman! 
THIS IS THE PICO VERSION, MEANT TO BE WORN AROUND THE NECK OR FIT ON A KEYCHAIN. These are simply a rangefinder. A bare-bones tool that takes up no room on any EDC loadout. 
Similar in function to the world famous PSO BDC reticle used on Combloc weaponry the RANGE-R card gives off NO thermal, IR, EM or SWIR signature. With a bombproof design and small footprint, add a Black Hills Designs RANGE-R card to your gear today. At a svelte 5.375″ x 3″, the Black Hills Designs RANGE-R Card is built to fit anywhere in your kit. The RANGE-R Card gives you the ability to range easily out to 900m without the use of electronics, emissions of any kind or dependence on GPS. The RANGE-R Card can be used as a standalone ranging solution or can be combined with traditional ranging mechanisms (Laser Range Finding, GPS, Milling, etc) to improve the accuracy of a given range. The polycarbonate card is perfectly sized for a BDU pocket. binocular pack or GP pouch. At roughly 1 oz the card disappears effortless into your kit.  The card is also an excellent instruction tool to help students develop the "eye" for ranging and can be used to develop intuitive ranging. The wide selection of Reticles available in the card also allows a user to range any object of similar height to enable crossovers in OCONUS environments.
Instructions:
Bite the end of the included 18" draw string and extend in front of sightline until tight.
Shift target within its specific targeting slot until it touches top and bottom of the curve.
Now, you have your range in hundreds of meters.
The card is graduated in meters, but has a direct conversion to yards in the center for quick translation.
Share
View full details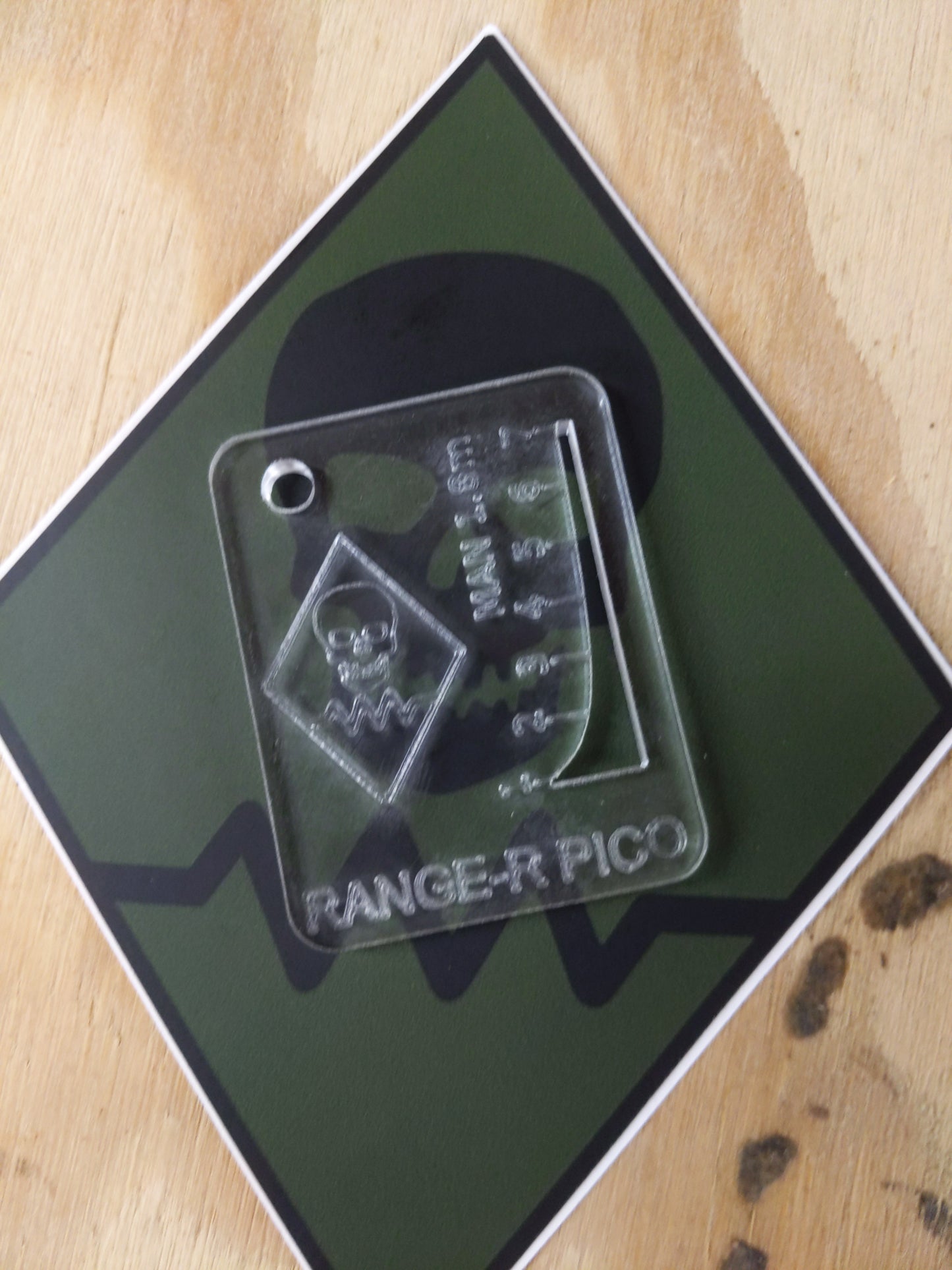 Great tool
Intuitive. Simple. Easy to use and you'll develop the ability to eyeball how far someone is after a while of using it. Now I estimate how fare someone is away and confirm with this. Still need to work on it myself.
Pico Range Finder
As with all products and classes at Brushbeater, they are all quality! This item is exactly what I needed for a small compact device. Can't get any better customer service, training and delivery times anywhere! Best ever. Can't say much more than that!